We are located at:
Verreaux Street Little Falls (Next to Falls Creek)
Little Falls Pre-Primary School
Trinityhouse Pre-Primary Little Falls joined the Trinityhouse family in January 2012. The school is a Christian school and we value the unique richness of every individual child. The Christian ethos we have at our school is not a religion but rather a lifestyle. The Fruit of the Spirit is integrated throughout our daily programme.
Tel: (011) 958-1513
Email: admin@trinityhouse.co.za
School website: http://www.trinityhouse.co.za/preprimary/littlefalls/
Little Falls Preparatory School
The second Trinityhouse school, Little Falls, was proudly opened in January 2012. We have an entirely new Preparatory school building and cater for pupils from Grade 1 to Grade 7, offering all the Trinityhouse Academic, Sport and Cultural activities.
Tel: (011) 958-1144
Email: admin@trinityhouse.co.za
School website: http://www.trinityhouse.co.za/preparatory/littlefalls/
Little Falls High School
Trinityhouse Little Falls High School, in its magnificent setting, has a declaration of
Christian values that lays a foundation for each pupil and promotes individual integrity and character. Trinityhouse prides itself on providing opportunities for growth in academic, sporting and cultural, as well as in spiritual areas.

Tel: (011) 958-1513
Email: mail@trinityhouse.co.za
School website: http://www.trinityhouse.co.za/highschool/littlefalls/
Back to List of Schools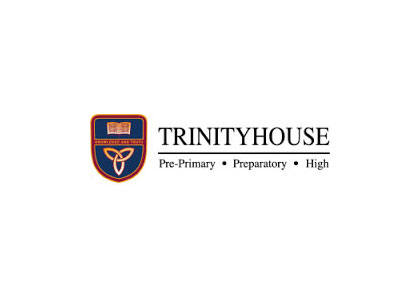 Trinityhouse Little Falls Uniform List
TRINITY HOUSE PRIMARY AND SECONDARY UNIFORM
Girls Open Neck Shirt
Boys Primart Short Sleeve Shirt with Badge
Trinity Windbreaker
Trinity High Mens Navy Longs no Elastic
Tinity High Boys Short Sleeve Shirt Button Up
Boys Primary Navy short
Girls Primary Tunic
Trinity Girls Waistcoat
Trinity High Girls Skirt
Trinity Primary Boys Navy Longs With Elastic
Trinity V Neck Jersey
Trinity Blazer
Trinity Sleevless V Neck Pullover
White V Neck Jerseys
Trinity High Girls Navy Slax
Trinity Primary Girls Navy Longs
Light Navy Blazer
Navy Bobby Socks
Navy Ankle Socks
Primary School Tie (NormaL)
Primary Elastic Tie
Matric Tie
HIE Tie
Girls Navy Pantihose
Girls Ladderless Pantihouse
Trinity School Bags with Logo
School Tog Bags with Logo
School Pencil Cases
Stickmaster Fabric
Stickmaster Pockets
Prefect Pockets
Honore Et Labore Blazer Pockets

TRINITYHOUSE SPORTS
Gilrls Hockey Shirt
Boys Hockey Shirt
Rugby Jersey
Rugby Socks
Girls Hockey Socks
Trinity Cricket Socks
Softball Slax
Netball Tunics
Netball Socks
Gilrls Primary Swimsuits
Girls High Swimsuits
Boys Primary Swimsuits
Boys High Swimsuits
Girls High Netball Skirts
Boys Primary Athletic Vest
Trinity Cap
Trinity Sun Visor
Trinity Navy Rugby Shorts
Girls Primary Athletic Vest
Girls High Athletic Vest
Trinity Full Tracksuits
Trinity Drama Tshirts
Boys High Athletic Vest
Coverdale House Shirts
Tyndale House Shirts
Wycliff House Shirts
Board Shorts
Gym Shorts
Trinity Golf Shirts
Girls Tennis Shirt
Boys Tennis Shirt
Boys Tennis Shorts
TRINITY HOUSE PRIMARY AND SECONDARY UNIFORM
Girls Open Neck Shirt
Boys Primart Short Sleeve Shirt with Badge
Trinity Windbreaker
Trinity High Mens Navy Longs no Elastic
Tinity High Boys Short Sleeve Shirt Button Up
Boys Primary Navy short
Girls Primary Tunic
Trinity Girls Waistcoat
Trinity High Girls Skirt
Trinity Primary Boys Navy Longs With Elastic
Trinity V Neck Jersey
Trinity Blazer
Trinity Sleevless V Neck Pullover
White V Neck Jerseys
Trinity High Girls Navy Slax
Trinity Primary Girls Navy Longs
Light Navy Blazer
Navy Bobby Socks
Navy Ankle Socks
Primary School Tie (NormaL)
Primary Elastic Tie
Matric Tie
HIE Tie
Girls Navy Pantihose
Girls Ladderless Pantihouse
Trinity School Bags with Logo
School Tog Bags with Logo
School Pencil Cases
Stickmaster Fabric
Stickmaster Pockets
Prefect Pockets
Honore Et Labore Blazer Pockets

TRINITYHOUSE SPORTS
Gilrls Hockey Shirt
Boys Hockey Shirt
Rugby Jersey
Rugby Socks
Girls Hockey Socks
Trinity Cricket Socks
Softball Slax
Netball Tunics
Netball Socks
Gilrls Primary Swimsuits
Girls High Swimsuits
Boys Primary Swimsuits
Boys High Swimsuits
Girls High Netball Skirts
Boys Primary Athletic Vest
Trinity Cap
Trinity Sun Visor
Trinity Navy Rugby Shorts
Girls Primary Athletic Vest
Girls High Athletic Vest
Trinity Full Tracksuits
Trinity Drama Tshirts
Boys High Athletic Vest
Coverdale House Shirts
Tyndale House Shirts
Wycliff House Shirts
Board Shorts
Gym Shorts
Trinity Golf Shirts
Girls Tennis Shirt
Boys Tennis Shirt
Boys Tennis Shorts