We are located at:
23 Knoppiesdoring Street
Randpark Ridge
Randpark Ridge Pre-Primary
Trinityhouse Pre-Primary Randpark Ridge is where it all began! From the very beginning in 2002, this little Pre-Primary School was given to the Lord, and in honouring God, it was built up into a precious, happy, and love-filled place!
The strong Godly principals and the excellent academic standard, together with a carefully differentiated approach, catering for the specific needs of every individual child from Grade 000 – Grade R was a winning recipe. This led to four other successful Trinityhouse Pre-Primary Schools today.
Tel: (011) 794–8564
Email: preprimary@trinityhouse.co.za
School website: http://www.trinityhouse.co.za/preprimary/randpark/
Randpark Ridge Preparatory
Trinityhouse Preparatory School was founded in Randburg in 1997 with an enrolment of 242 pupils. Since then, it has enjoyed unprecedented growth and we pride ourselves that the demand for places far outstrips those available.
The education we provide is holistic in that mind, body and spirit are developed concurrently. Our academic curriculum is relevant to an ever-changing world while age-old spiritual values remain unchanged.
Tel: (011) 794-4799
Email: mail@trinityhouse.co.za
School website: http://www.trinityhouse.co.za/preparatory/randparkridge/
Randpark Ridge High School
Learning is the core business of an excellent school. Learning is not only about subject knowledge; it's a holistic life experience. Trinityhouse High School most certainly offers its pupils excellence.
We take great pride in our school and the exceptional achievements of all our children. We offer a top class education including all the academic, cultural and sporting prerequisites an independent school must have in South Africa today.
Tel: (011) 794-4799
Email: mail@trinityhouse.co.za
School website: http://www.trinityhouse.co.za/highschool/randparkridge/
Back to List of Schools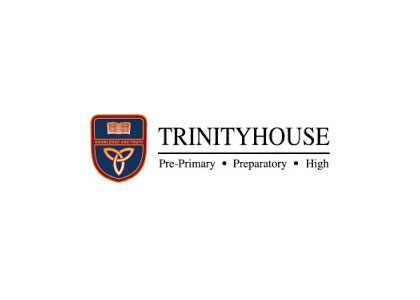 Trinityhouse Randpark Ridge Uniform List
Uniform
Girls open neck shirt
Boys Primary short sleeve shirt with badge
Windbreaker
Mens navy long (no elastic)
Boys High short sleeve shirt (button up)
Boys Primary navy shorts
Primary tunic
Trinity waistcoat
Trinity High skirt
Boys Primary navy longs with elastic
V-Neck jersey
Trinity blazer
Sleeveless jersey (pullover)
White jersey
Light navy blazer
Girls High navy slax
Primary Girls navy longs
Shirt pocket
Sport
Girls hockey shirt
Boys hockey shirt
Rugby socks
Girls hockey socks
Cricket socks
Softball slax
Girls Primary & High swimsuits
Boys Primary & High swimsuits
High netball shirts
Boys Primary athletics vest
Cap
Rugby shorts navy
Girls Primary athletic vest
Full tracksuit
Tracksuit top
Tracksuit pants
Drama T-shirt
Boys High athletic vest
House shirts - Coverdale
House shirts - Tyndale
House shirts - Wycliff
Board shorts
Gym shorts
Girls High athletic shirt
Golf shirt
Rugby jersey
Netball socks
Girls tennis shirt
Boys tennis shirt
Boys tennis shorts
Other
Matric tie
HIE tie
Cricket cap
Pantihose (navy)
Tog bags
Ladderless pantihose
Navy bobby socks
Navy anklet socks
School bags
Pencil cases
Stickmaster fabric
Stickmaster pockets
Prefect pockets
Honore et labore